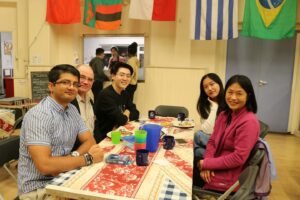 Globe offers an opportunity for international students to make friends with local people in Newcastle and practise English (if this is what you need!). We have free hot drinks ☕️ and biscuits🍪. Dinner is only £2.50 per person includes the main course 🥘 and a dessert🍨 (Please bring cash for dinner).
Time: Every Monday 7.00-9.30pm
Address: Jesmond Parish Church Hall (NE2 4DJ)
(N.B. It is only one minute from Jesmond metro station to Jesmond Parish Church Hall. Our volunteers are willing to give you a lift or walk with you home after the Café if you live far away 🙂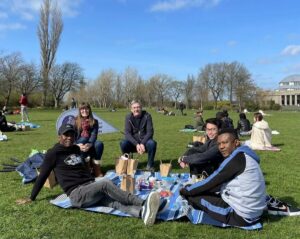 Globe Conversation Group happens both online and in person. Each group is led by a Globe volunteer and usually has no more than 10 people. We talk about anything and everything, from culture shock, manners, festivals to our views on freedom and love, for example. It is a fantastic way to share your own culture and values with others, learn about the British culture, as well as having fun together in a smaller setting. We currently run 5 groups during the week.
If you are interested, please contact Philip at philip.ballard@friendsinternational.uk
Time: Various times throughout Monday to Friday
Place: Various locations